I just got a catalogue from DonegalBees.ie. After reading it from cover to cover I have come to the conclusion that I am completely out of touch with modern day Beekeeping. I have not heard of most of the hives listed let alone all the other fancy gizmo`s. So I have been googling around and came across "The Rose Hive". I like the concept of one size does all for obvious reasons but leaving the Queen excluder out!!. Sean, this is what you do is it not? Does this not make swarm control a problem? I have been reading that in the US they often use Langstroth brood boxes for brood and honey. The old timers of my old Beekeeping association that tutored me would be turning in their graves if they read this catalogue. I do like the idea of one size boxes though.
Well Cristy, my hives are my own design and I made them all myself.  I think the factory-made hives are too flimsy - so I made mine with timber a good inch thick. And I soaked them with three coats of creosote.  That was over thirty years ago and they are as sound today as the day I made them.  The brood chamber takes ten British Standard brood frames and all the supers take eight shallow Manley frames.  I don't use queen excluders and I find that discourages swarming as the queen never runs short of room.
   When it comes to the honey harvest, I bring a trolley with two empty supers on it.  I go through each hive and take out one frame at a time, shaking the bees back into the hive.  If there is brood in the frame,  I put it back, taking only frames
of honey and placing them into the supers on the trolley.  That way I don't have to lift full supers of honey and put my back out!  I'll try to take some pictures tomorrow.
My first hive was a barn find, a WBC. It was finding this hive that gave me the idea of keeping bees. Like you Sean, I have made most of my hives. all to a tried an tested plan. The Smith hive was my choice as its design was the cheapest to make. The WBC hive was in poor condition internally and I gave it to a bloke who wanted to us it as an ornament in his front garden. Nice looking hive the WBC. The Langstroth was a flat packed xmas present and I have made them ever since. Inch thick / 25mm timber is what I used but I cant get it over here, well not as a standard off the shelf item, so I have made two hives this year out of double thickness marine ply, They look well enough but I am no wood smith. The roofs I find the most tricky. I shall make some more brood boxes over the winter and try the one size method on a hive next year. As to not using a Queen excluder I read that once a halo of stores is formed around the top of a frame the Queen does not cross it! Do you do any swarm control Sean? The neighbors bees swarmed again yesterday. Despite the fact that they are Italians I would have taken the swarm but they were away off yonder.
I covered my roofs with sheet metal. It took time, but it was worth it. I've covered some lately with a broad sheet of damp-proof course and it worked pretty good. As to the Q. E., I find the queen usually fills the first super and sometimes goes up into the second, but rarely any farther. Then, as the season progresses, she generally confines her laying to the brood chamber and, as the brood in the supers hatches, the bees fill the combs with honey.
My system of swarm control is pretty simple - I don't believe in all this checking for queen cells every ten days and cutting them out etc. I just give the colonies plenty room and see what happens. If they swarm, and I'm lucky enough to see the hive they come from, I hive the swarm on a new stand and, a few days later, split the parent hive into three nucs, each with a queen cell. I take two of these to an out-apiary and leave them there till their queens are mated and laying, and leave the third on the old stand. The supers from the parent hive, together with any brood they contain, I place on top of the swarm, making sure they contain no queen cells. As soon as the nucs are ready, I bring them home and install them in full-size hives.
You got it all sorted then Sean, and I can see why you have so many hives. I did not do any swarm control this year apart from breaking down Queen cells after the colony swarmed. I set a bait hive and in they went. I have just completed another hive which is set up as a bait hive. Its getting a bit late I know, and I dont suppose the neighbors hive will throw any more swarms. I will be better organised next year.
It's not late here Cristy - July is always the main swarming month here.  I have often hived small casts at the end of July and, with a bit of care - adding a few frames of honey, had them build up to strong colonies before winter.  Here is a snap of a couple of thirty-year old hives, still going strong. All the supers are full - I need to take some honey off!  These two were started off as three frame nucs last June - each with a queen cell.  Their queens are now at their best.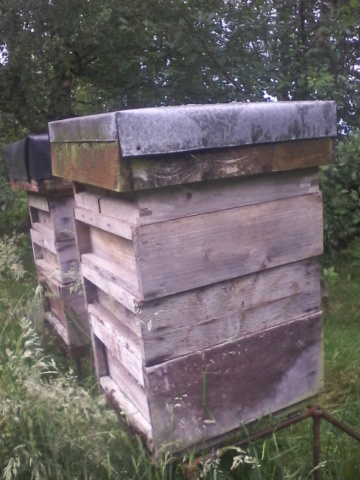 Similar topics
---
Permissions in this forum:
You
cannot
reply to topics in this forum