A bird that has become very scarce around these parts over the last few decades is the Spotted Flycatcher.  I saw two in the garden last year and a neighbour had a pair nest on an ivy-covered drainpipe bracket a few years ago ( he had no idea what they were and was singularly unimpressed when I enlightened him!), but, other than that, nothing.  So, this year,  I'm going to stick up nestboxes here, there and everywhere in the hopes of attracting a pair.  Unlike tit-boxes, they're open-fronted, so need protection against Magpies and crows. To that end, I'm enclosing them with wire mesh, so the Flycatcher can get through but nothing bigger.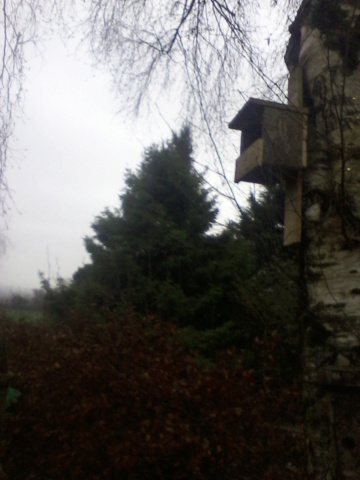 Here's the first.
Good luck with them Sean. I have had no luck at all with nest boxes. I will try and face them in a different direction. Apparently S/E is ideal.
I've been fairly successful with them: last year I had three Starling boxes occupied, two Blue Tits and a Great Tit. I could have plenty more pairs of Great Tits if I provided more suitable boxes, but they're already too common here for my liking - they're serious bee-eaters. I watched the pair which nested in the garden last year raising their brood on my bees! They haunted a bramble patch which the bees were working and snapped up the bees as they visited the flowers. They would then fly to a branch and peck at the bee - presumably removing the sting - before darting into the nestbox with it. I estimated they were going through about fifty bees an hour. They also prey on bees in the dead of winter - they peck at the entrance till a bee comes out to investigate and then snap it up. So no Great Tit nestboxes this year - and they will still be too plentiful for my liking! I love birds - and all wild creatures - but Great Tits and Bullfinches I could well do without!
My view is all about balance. Today the entire congregation of rooks from the local rookery were perched in my trees. All wanting no doubt a feed on my chook/duck food. Like you Sean I am into wildlife but all these rooks are a right pain. They are worse when they have chicks. My bird feeders have cages around them. I don't hate them of course but I could do without them. As to Great tits which I call "Bell bird", We have a few but nowhere near as many as you. With the depletion of wildlife stocks over a wide spectrum of species, I am reluctant to take the gun to the rooks. So I need some suggestions as to how I can feed addlib chook feed in the run without the cannie rooks getting it. Any ideas lads?
Hi Cristy
Have you tried treadle feeders. We have some and they are quite good, just need level ground to work properly. We have had birds managing to work out how to use them though but it takes a while.



Posts

: 278


Join date

: 2017-10-03



Well, the younger of my two border collie bitches takes care of the Rook problem here. She will tolerate Collared Doves coming to the feeders, but she won't allow Rooks, Jackdaws or Hooded Crows to come anywhere near them. She'll sit staring at them when they perch high in the trees, daring them to approach the feeders. And the same bitch will allow young chickens to hop over her and actually sit on her back!
Thanks for the input lads. Those treadle feeders look good though I have my doubts that stupid ducks would fathom them out. I feed my chooks in the hen house with a large feeder hanging from the roof. This seems to work well enough and is placed at such a hight so rats cant get to the feed. It is the ducks that give me some grief. I only get the odd egg now from these young birds, so I need to get some more feed into them. This is why I want to feed them adlib like the hens. A hanging feeder would work for the ducks but their duck house is too small for it. A bigger duck house will have to wait for the spring. Sean. You have a good dog there.

Ducks won't manage the treadle feeders. Is the area to large to cover with netting of sorts. You could always just kill one bird and hang it near by, this is supposed to work.



Posts

: 278


Join date

: 2017-10-03



cristy wrote:I only get the odd egg now from these young birds, so I need to get some more feed into them.
Cristy, my ducks have ad lib feed and I'm getting no egg at all from them! I'm expecting this to change when the days get a bit longer. Thankfully, there are a good few hens laying though, so I don't starve!

Deryn. The run is in my orchard and its not feasible to put a cover over it. I have shot a rook and hung it up in the past, and it works but I am loathed to do that. Yet!. The sight of a rook hanging up in the pen would give the ducks a bit of a shock as well. Sean. My ducks should be laying now as they did not come into lay last year. I do expect them to come into lay as the days get longer, if not its orange sauce!


Similar topics
---
Permissions in this forum:
You
cannot
reply to topics in this forum