Page 2 of 2 •

1, 2

No trouble Deryn; the varieties you've chosen are fine, but I wouldn't be too fond of MM111 as a rootstock - you can end up with a tree over 15 feet high if you don't prune it carefully and you won't get much of a crop off them till they're 5 or 6 years old. M26 is pretty good, though you might need to keep it staked.  I'm surprised you haven't been able to source anything on MM106 or M116, which would be my choice. The reason those three-yr old MM111s are available is that few people want them.
  If I were in your shoes,  I'd buy any old varieties I could get on MM106, plant them, let them grow for a year or two and then graft them over onto the varieties you want. It's easy to change the varieties, but to change the rootstocks, you have to dig them up and start again.
Sean. (master yoda)

. You certainly know your apples.
Hi Sean
Final order
Edward 3yr on M26
Fiesta 3yr on MM106
Saturn 3yr on M26
Cockpit 3yr on MM106
Sunser 2yr on M26
Hope that is a reasonable list
Will keep your original list and hopefully add to the orchard next year
Looks pretty good Deryn. Glad you didn't go for the mm111 - I think you'd be digging them up later on! And, once you learn how to graft, you can have all the varieties you want - I'm making a Frankenstein tree this winter, with five different varieties on the one tree.
Sounds interesting Sean.
I'm sure its possible to graft but I'm not sure I would know where to start. I need to learn to prune first. Thank you for all your help
It all seems far to early but I am going to prune my orchard today and cut scions for grafting. The buds on some of the trees show signs of swelling. I think if we get a cold snap, which is almost certain. These buds may get damaged. I have a concern that this may damage the scions if left till later.
I'm starting pruning today as well Cristy, but I'll put off the scion-taking for a month or so. I don't think the cold will bother the buds - it's only really fruit buds the frost damages - and you don't want them on scions anyway.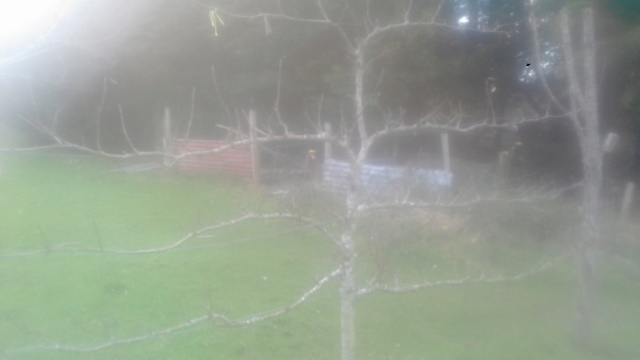 This eight-arm espalier is a Cockle Pippin.  It's a reasonably good dessert apple, but not spectacular and it doesn't sell well. So this year I'm going to lop off all its arms and graft on twigs of Claygate Pearmain.  I've never grafted over an espalier before, so I don't know how well it will work, but I'm going to give it a go.
That looks a good shape Sean, you obviously have a knack with the trees. Keep us informed on the results
Well thats all my pruning done. Just as a side comment, I save all my prunings of Cherry, Apple, and Pear for alfresco cooking in the summer. The sweet scent given off makes form the best tasting barbecue ever.

Page 2 of 2 •

1, 2


Similar topics
---
Permissions in this forum:
You
cannot
reply to topics in this forum